DAYTIME KEY & VEHICLE DROP-OFF
free vehicle pick-up & drop off to help those in quarantine
Stay safe in your home or workplace while your vehicle gets the necessary work done.
archie's
Coronavirus Response
DAYTIME KEY &
VEHICLE DROP-OFF SERVICE
Many of us still have to work despite calls for self-quarantining, & that means making sure our vehicles need to get work done. Oil changes, brake repair, and other major services all still need to get done.
For that reason, we've decided to make it available to our customers to not have to come into the shop at all. Just follow these instructions to get your vehicle work done without ever having to come inside.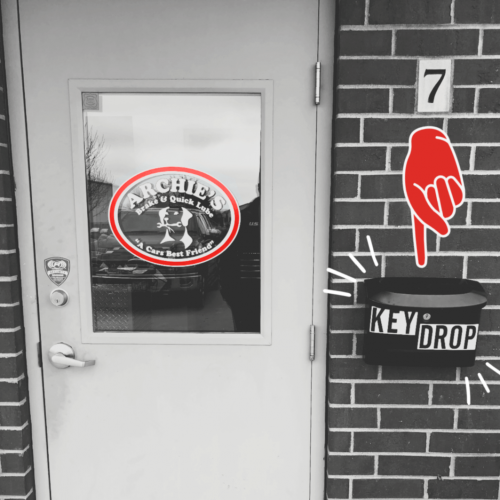 Drop your keys into our secure lock-box at the front of the shop (pictured above).
Either enclose your keys in an envelope with the following information:

Your name & phone number
Make/model of vehicle
Services requested
When you need your vehicle returned to you

OR call us at the shop/message us on Facebook
When work is complete, we will call you back & proceed with payment over the phone
If shuttle service is necessary, please notify us beforehand
while your vehicle is with us
when your vehicle is returned to you
*The mechanics of Archie's Brake & Quick Lube are committed to treating your vehicle like family, which is why all maintenance schedules & service intervals will follow Manufacturer's Recommendations, where applicable.
Want to schedule an appointment at Archie's?
At Archie's, we value talking with our customers directly to make sure their needs are fully met and that there are no misunderstandings. Please give us a call. We'll be waiting by the phone.